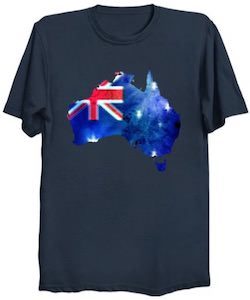 If you like to show that you like Australia then this is the t-shirt to wear.
The shirt is perfect for Australians that want to show their love of their country and it is also a great shirt for tourist that go or already went to visit Australia.
You can get this t-shirt in styles for men and women and it comes in sizes Small – 6XL and it is also available in many colors.
On the t-shirt you can find a big shape and we all know that it is the map of Australia and the map is filled in with the flag of the country in a cool look like if you look at it from space.