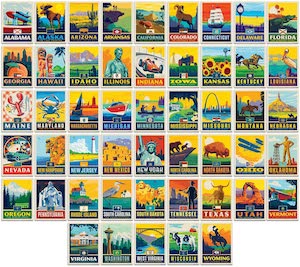 Now there is this fun 50 US States Sticker Pack that you can see much better by clicking on the picture.
So in this sticker pack you will get 50 different stickers all vinyl and they measure 2 x 3 inches.
Each sticker is a different state with a nice image and the name of the state below it. You can see that each state has a typical image for that state and all are great pieces of art with lots of colors.
These fun stickers are great for almost any flat surface, you can stick them on the back of your RV to show people where you have been but you can also put them on your suitcase or even you laptop to show what state you like.
Options are limitless so just find a nice spot for one of these 50 stickers.