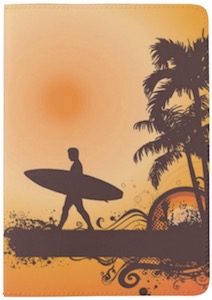 Passports are great documents as you can travel the world with them but they do get beat up when you travel a lot and that is why you should check out this surfboard and the beach passport cover as it looks amazing and is great a portecting your passport.
The back of this passport cover is just plain orange but the front still has that orange glow and on top you can see the beach with a person walking to the beach with the surfboard and you can see palmtrees too and much more.
The passport cover fits most countries passports but check before you order as this is a 5.25 x 3.75 inch passport cover.