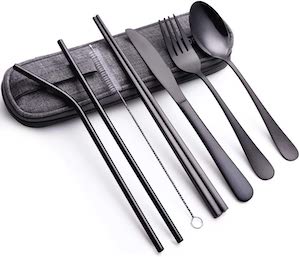 Now you can always be ready to eat all thanks to this Stainless Steel Travel Cutlery Set.
This flatware set is made from stainless steel and comes in many colors including boring black but also in fun colors like purple and red to name just a few. Just click the picture to see all the colors you can choose from.
Included in the set are a spoon, fork, knife, chopsticks, two straws and a brush for the straws and all is dishwasher safe. And there is a water proof storage pouch to so that you can have your cutlery ready for a trip.
This reusable set is just great for lunch at school or work but also to take camping or to have in your hotel room if you like to eat with real utensils instead of plastic once.