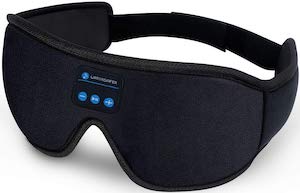 Now you can own this Sleepmask With Build In Headphones so that you are ready for a nice nap where ever you are.
This eye mask is made to block the light as it has nice eye cups and a good nose bridge and there is more as there are speakers on the sides that you can position to cover you ears so that you can use them for a nice nap in a noisy room or use them for meditation or even for on a plane or just at home.
The headphones use bluetooth so no wires and they do connect easily with you phone.
And as this eye mask is great for travel so they did include a storage pouch so that it won't get dirty or damaged.