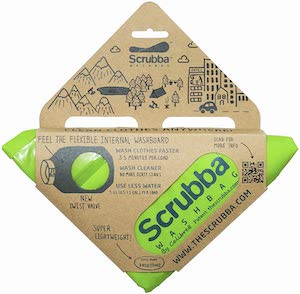 Now you can get this Scrubba Travel Laundry System making it easy to do a quick wash when you a are traveling.
This Scubba wash bag is made for be super handy as it stores really small so that you can take it in your backpack or suit case where ever you go.
Just put you dirty laundry in the bag and add some water and soap and you are ready to wash and if you want to know how it works then click on the picture as there is a handily little video that explains it.
So now you can do laundry almost anywhere as long as you have water and a bit of soap. So in a hotel or a campsite you are ready to get your clothes clean.