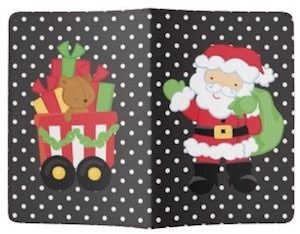 Passport covers are a great way to protect your passport from harm but also great in making it easy to find the right one and to add a more personal detail to your travel documents.
This passport cover is all about Santa and Christmas. The cover has a black background with white polka dots and on the front, you can see Santa Claus with a bag of presents and he is waving at you. On the back, you can see a wagon full of presents including a plush bear.
So just put your passport in this Christmas passport holder and you are ready to travel this holiday season.