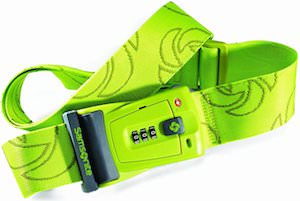 Luggage straps are a great way to make it easier to spot your luggage quickly.
And this Samsonite luggage strap will make that a lot easier as it is neon green (also available in different colors).
Besides being easy to spot this luggage strap also has a combination lock to make sure your suitcase keeps closed and you nobody will steal your strap.
And the lock is TSA approved so that you don't have to worry that they will cut the strap if they need to be inside.
Quality is one of the things Samsonite stands for and this luggage strap is no exception.