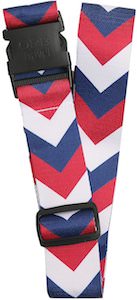 Luggage Straps are the ideal way to make sure you bags don't open while traveling and they can be a great way to spot your bags quickly.
Just imagine having this luggage strap on your suitcase, it will be so easy to spot.
This luggage tag has a red, white and blue arrow style design with a strong black buckle.
And this luggage strap is 2 inch wide and 70 inch long and of course can be adjusted to fit snugly around you suitcase or bag.
A luggage strap like this is not just great looking but also a fun way to dress up that boring black suitcase of yours.