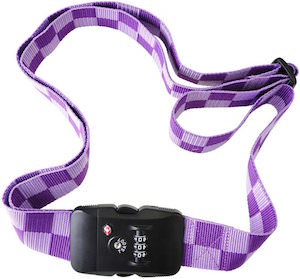 Luggage straps are the ideal way to make you suitcase stand out and also great for adding a little bit more security.
This luggage strap is purple and not one but two tones of purple as it is covered in purple squares. And then there is a combination lock that is easy for you to set to the code you want so that you never have to forget your combination.
And yes the lock on this luggage strap is TSA approved so that you don't have to worry that the authorities cutting the strap if they want to check your bag.