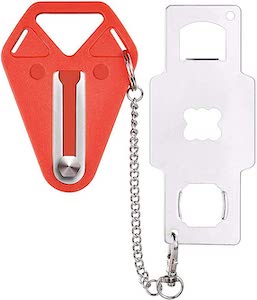 Now there is this Portable Travel Door Lock that is made to keep your safe while traveling.
If you travel a lot and not always trust the locks on your hotel room then this lock is what you want as you can easily attach it to almost any door and yes even the one at home.
This lock works simple, attach the metal plate to the pin of your door and then close the door and lock the slider in place and your door will be securely closed making it really hard for others to enter your room.
So now you have the control of who can enter your home or room because they can't touch the lock from the outside.