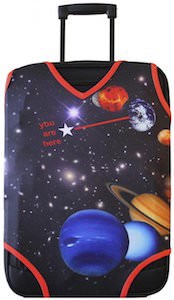 Do you want your suitcase to look special and be difficult to get into?
Yes you do and that is why there  now is this suitcase cover that will protect you suitcase from harm while traveling and it won't open easily because there is a big cover over it and that will keep thieves out of it as they look for easy access.
And yes wheels and handles keep working so it works just like any normal suitcase only this one looks like space.
The suitcase cover shows a big galaxy with planets and stars and a arrow with a white star that says "You are here".
So if you want to be different and stop worrying about your belongings then you are in luck wit this cover.