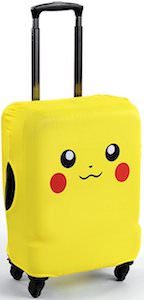 If you like Pokemon and would like a suitcase cover then check out this Pikachu suitcase cover that makes your suitcase look amazing with the yellow color and the face of Pikachu on the front and his tail in the back.
The suitcase cover is made to protect your suitcase by fitting snug around it while keeping wheels and handles available for use. And a cover like this also makes it more difficult for quickly get into your luggage and that will keeps thieves away too.
Finding your suitcase when it is covered like this will be so much easier too so what are you waiting for.