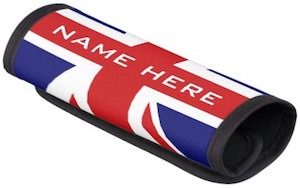 Suitcase and bag handles are often just not comfortable to hold and that is why this Union Jack handle wrap is just perfect for you.
And this flag handle wrap is not just the flag but as you can see it can hold you name on it too (no extra cost) so you can choose to have just the British flag or the flag with your name on it.
The neoprene handle wrap will make it way more comfortable to carry your bags and suitcases.
So if you like to show your love of English heritage then adding the handle wrap to your suitcase can make that happen.