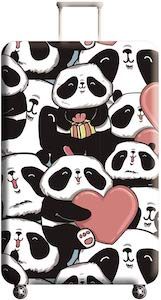 Suitcases are mostly boring but now when you get this Loveing Panda's Suitcase Cover.
This cover is available in 4 sizes and also really stretchy so that it will fit snugly around you suitcase and not only does it make it really fun looking it also protects it from damage. And if you panda suitcase cover would get dirty then no worries as it is machine washable.
The suitcase cover will fit most suitcase while keeping wheels and handles all available for you to use.
As you can see on the picture the suitcase cover is covered in funny looking panda bears some of them are holding giants hearts and some brought a present and all In all it just really looks fun and cute.