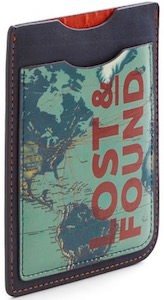 Protect your passport from getting damaged by storing it in a nice cover.
This cover by Wild & Wolf is made from faux leather and is the perfect cover for your passport. Just slide it in and you don't have to worry about damage to your passport.
On the front the passport holder shows a map with on the at the text "Lost & Found" to give it a special and unique look.
Why get ugly creases or stains on your passport when it's so easy to keep it neat when you store it in a cover made to keep it in new condition.