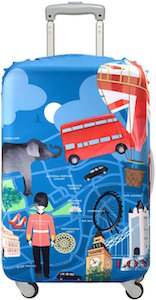 Now you suitcase can look cool again and be protected from nosy people.
This is a suitcase cover that fit over you suitcase while keeping wheels and handles al accessible.
And this suitcase cover shows a scene of London, you can see the map in the background and famous buildings and cars and there is even an elephant.
Just imagine how much easier it is to see you suitcase on a the luggage belt at the airport.
And just imagine going to London and people will stare at you at the airport.
Protect your suitcase and make it look cool all with a luggage cover like this one.