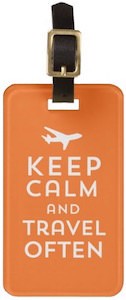 This luggage tag is for people that love to travel.
On the front the luggage tag os orange and shows in white a plane with below it the text "Keep Calm and travel often". It's just a fun bag tag that will make it easier to quickly spot your bag at he luggage belt at an airport.
On then back the luggage tag is white with the information you want printed on it so that you never have to write those ID labels again.
Luggage tags are a great way to make sure you bags can get recovered when lost and to spot you bag quickly so I would get one on all your bags.