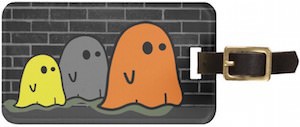 If you like ghosts and Halloween then why not get a special luggage tag if you have to do some traveling around Halloween?
This bag tag has a black brick design background and on the front you can see 3 ghosts or are they different creatures hiding under a sheet?
On the back you can see the same bricks but it also will have your information printed on it so that you have the perfect personalized luggage tag.
This luggage tag is also great if you are part of the Ghostbusters or if you are a want to be.
Get ready for Halloween and start with a fun bag tag like this one.