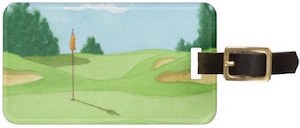 If you want a luggage tag for you golf bag or your next golf trip then this bag tag could be perfect for you.
On the front of the luggage tag you can see a golf course with the hole right in front and on the back it will have the information you want on it. Neatly printed as part of the tag your information is there ready for the trip. And you decide what you put there so address, phone number or maybe just an email address it's all possible.
A luggage tag like this of course makes for a fun present for a golfer to.