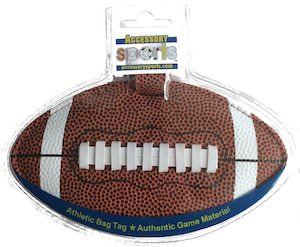 Sure you can get a boring square luggage tag but if you are into football then a bag tag like this would be much better.
This luggage tag is shaped like a football and looks like a football.
On the back of the football luggage tag you have the typical card for your information and that of course will help if you ever loose you suitcase or bag.
And just imagine how this tag would look on your sports bag or backpack.
Now you never have to loose anything anymore as this football bag tag is just perfect for you and it doesn't matter if you are a kid or adult because everyone loves football.