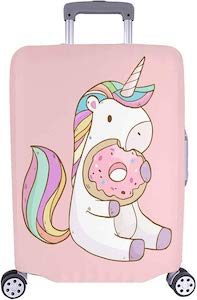 Now there is this super fun Donut And Unicorn Suitcase Cover that not only protect your luggage but also just looks cute.
The suitcase cover is made from a very flexible material so that it really stretches around your suitcase while leaving handles and wheels accessible and this cover is available in 3 sizes so that it really fits your luggage.
As you can see this suitcase cover is pink and on the front and the back it shows a cute picture of a unicorn that is eating a yummy donut.
You have to admit this is pretty cute and besides protecting your suitcase and making the boring box look fun it also makes it really easy to spot your suitcase on a luggage belt at the airport.