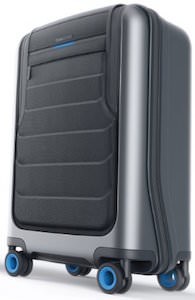 Suitcases come in all kinds of shaped and sizes but this one is special.
This Bluesmart suitcase is the perfect carry-on suitcase. The suitcase will lock itself when you walk away and even has GPS tracking build in so that you always know where you suitcase is.
And this smart suitcase even has a building battery that can share you smartphone up to 6 times when on the go.
Besides all that it is also a great suitcase with 4 wheels for easy traveling and a special easy access (but locked) electronics compartment to make traveling through security a lot easier.
And to make this suitcase complete they even build in a scale so that you always know the weight of you carry-on luggage.