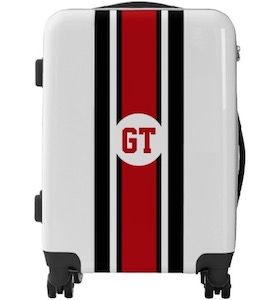 Everyone seems to have the same kind of suitcase but you don't have too as this suitcase has cool stripes in red and black and in the middle, it will have your initials making it a cool monogram suitcase.
And you can get this suitcase in 3 sizes from carry-on luggage to a huge suitcase. And you can even change details colors of the suitcase to make it even more personal.
So no need to to be like everyone else who has a plain black suitcase as this bag is different and unique for you.
And the suitcase has a TSA approved combination lock so that you stuff will be secure in the suitcase too.