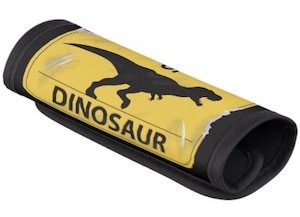 If you want you bag to be carried more comfortable then you have to check out this beware of dinosaur handle wrap.
Now you can wrap you suitcase or other bag in this handle wrap making it way more compatible to carry and on the wrap it shows a yellow warning sign with a big dinosaur in the middle and the around it the text "Beware Of Dinosaur".
Now almost any bag will be easy to carry all thanks to this handle wrap that you just fold over and it will be kept in place by velcro and the wrap is made from neoprene to be comfortable on the hands.