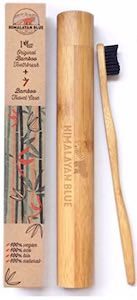 Now you can travel with this nice Bamboo Travel Toothbrush that can travel with you where ever you go.
This toothbrush comes in a nice bamboo holder so that it is always secure and ready for use.
The toothbrush has a nice bamboo handle with nylon bristles and besides being a great brush it is also less bad for the environment as this is a compostable product.
Let's all get a toothbrush that has a lower impact on the environment and this one is great for brushing on the go and at home and it also looks amazing and that is important too.