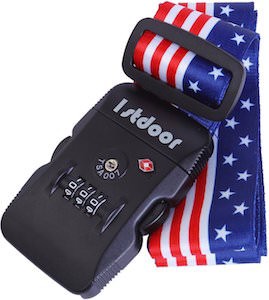 Now your suitcase can have a nice luggage strap with a US stars and stripes design.
The luggage strap is half covered in red and white stripes and the other half is blue with white stars just the the American flag.
The luggage strap also has a TSA approved combination lock to make it a little bit more difficult for people to get into you bag.
For sure it is gone be easier for you to spot you suitcase at the airport because this nice red white and blue luggage strap will make it easy to spot.
Travel in style with a luggage strap that you like and if you like the US flag then this could be the one.