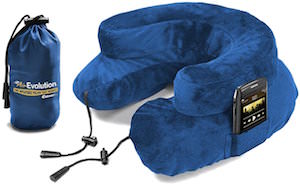 If you do a lot of long flights and love to use the time to catch up on some sleep then you just need a travel pillow.
And now there is this inflatable neck pillow that is just perfect for almost any trip.
Because it's inflatable it stores really small (about the size of a soda can) and you can adjust the firmness the way you like it.
And this travel pillow is a big higher then others so that you head will stay nice and straight so that you don't get a sore neck.
The neck pillow has two adjustable straps so that you can keep your pillow securely around you neck without the risk of sliding of while you take a nap.