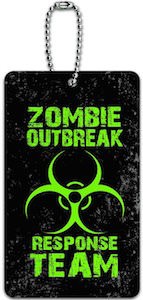 Are you looking for the perfect bag tag for your zombie hunting gear?
If you are this could be the one. On the back the luggage tag is simply white with 4 lines to write you information on but the front is here it's all about. The front as a worn looking black background with on it in neon green the words "Zombie Outbreak Response Team".
A luggage tag like this is great for your suitcase to as people will think the worst things happen when they see you luggage tag witch of course will make other people smile.
Now you suitcase can show you are a zombie hunter.