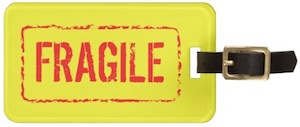 Want the luggage handlers to be careful with your luggage?
Maybe putting this yellow luggage tag would help.
The front and back of the tag are yellow and on the front you can see in red letters that word "FRAGILE" and if the handlers see that then they may be a bit nicer to your suitcase.
You can change the fragile text if you want to and on the back this luggage tag has your information printed on the tag so no more loose piece of paper just a nice strong tag with your info on it.
And yes a yellow tag like this also makes it easier to spot your luggage on the luggage belt at the airport.