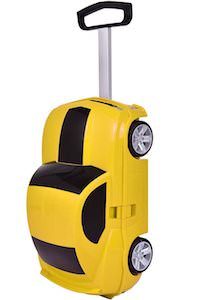 Now there is a cool yellow car kids suitcase that will be loved by your child and even an adult that likes a cool suitcase.
The suitcase is shaped like a car and even the 4 wheels can turn and this is a real suitcase with a retractable handle and wheels to pull it while traveling.
Inside the car suitcase has a mesh separator to be able to add more stuff inside it.
A suitcase like this is great for the kids but it is the size of carry on luggage so if you are an adult and like traveling then why not use it.