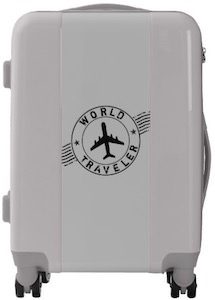 If you want everyone to know what a world traveler you are then you just need a suitcase that says it and this world traveler suitcase does say it.
You can get this suitcase in 3 sizes from cabin luggage to real big and you can make it more personal by choosing cool colors for bumpers, handles, and wheel covers and that way it becomes more fun to look at.
On the front of the suitcase, you can see a logo with an airplane in the middle and on the circle around it, you can find the text "World Traveler".