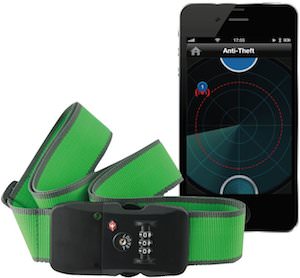 Are you worried about your suitcase getting lost or stolen?
If you are then you need this green luggage strap. The strap has a TSA approved combination lock so that you can keep people out of your suitcase.
But this luggage strap offers more. The build in Bluetooth tracker can talk to a free iPhone or Android app so that you can see where you luggage is and even track it if it get in the wrong hands.
There is even a paging and alert function with LED so that you can keep an eye on your suitcase a lot better.