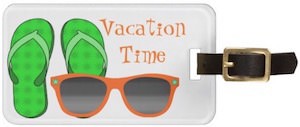 This luggage tag is all abut going on a holiday.
On the front of the luggage tag you can find the words "Vacation Time" and also a pair of green flip flops and orange sunglasses as that is something you will need for that summer vacation to the sun and beach.
On the back of this bag tag you will find the info you want printed on it as this is a personalized luggage tag that will always have the right information without the need to fill out those piece of paper and that makes this luggage tag always ready for your next vacation.