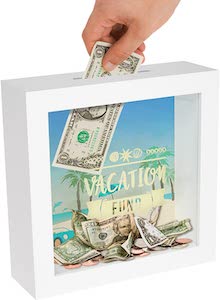 Now you can start saving for your next vacation because now there is this Vacation Fund Money Bank.
Many of us can't really go anywhere thanks to the pandemic but one day things will improve and then you want to be ready to fo on a nice trip.
The money bank is a white frame with a money slot on top and has glass front that says "Vacation Fund" on it and then behind it all you see a nice beach view and between the view and the glass that is where your money ends up.
Now you only need a nice spot for the frame and you can start saving your money for a vacation. You can hang it on a wall or stand it somewhere in your home.