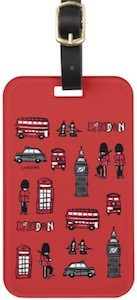 If you are planning to go to London or just like the capital of England then come check out this fun typical London luggage tag.
The luggage tag is red and on the front you can see typical symbols of London like double decker busses, Tower Bridge, Big Ben, Soldiers, and much more.
On the back of the luggage tag you can find the typical card slot with a card to write your information on it and as it is a piece of paper in a pocket you can keep changing it.
So if you like a cute bag tag then this could be perfect for on your luggage.