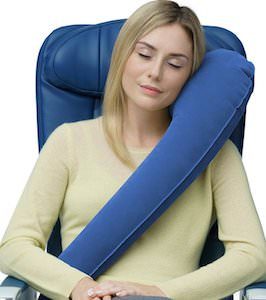 We all know that taking a little nap while on a plane often results in having a really sore neck for days but a nice travel pillow can help prevent that.
Now there is the Travelrest pillow that is easy to inflate and take with you and when inflated it becomes a pillow that resembles a 7 and that gives you head a rest while you have the rest of the pillow in front of you (or the side) making it really comfy. The pillow will stay in place thanks to the included strap so that you can nap without having to worry about you nice soft pillow.
Now traveling by train, car, or plane will be so much better all thanks to this amazing pillow.