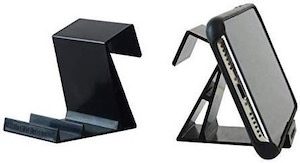 Now you can travel in style all thanks to this The Skyclip Phone Stand And Hook.
We all know how annoying it is to watch your phone on the plane. Sure you can put the tray table down and prop it against the seat in front of you but now there this cool stand.
The Skyclip can be clipped to the treatable of you seat and then you fold it up and your phone can just stand on the clip which makes it super easy to watch stuff on your phone or maybe your e-reader or tablet.
And when you are not on the plane of when your tray table is down then you can still use this stand as it has a nice flat bottom. Your Skyclip is available in many fun color so come see them all.