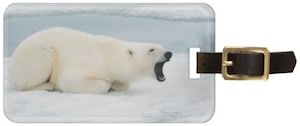 A polar bear is an amazing animal and if you think so to then you should take a closer look at this luggage tag.
On the front of this luggage tag you can see a polar bear lying down with his mouth wide open just like he is screaming at you.
On the back of this bag tag you can have your info printed right on it. So no writing and paper cards, this time your info will be part of the luggage tag.
And this animal luggage tag even has a leather strap so that it last and states securely in place on your luggage.