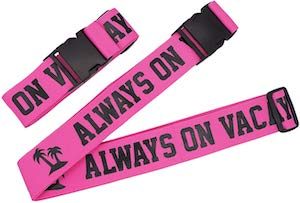 If you like vacations and pink then this Always On Vacay Luggage Strap is what you need.
The luggage strap is pink in color and on it you can find some palm trees and the text "Always On Vacay" and having that on your suitcase will make it way cooler to look at and easier to spot at the airport.
And you get two of these adjustable luggage straps so that you can use them on two suitcase or you can use both on one suitcase in a cross shape to make your luggage more protected from theft.