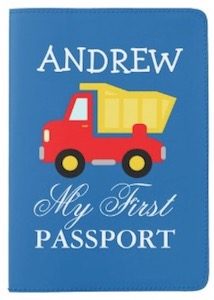 This passport cover will be personalized for you child (no extra charge) making it really cool.
The passport cover is blue and on the front you can see a nice red and yellow toy dump truck and lots of kids love trucks like that and then around the truck you can have the text of your choice and as you can see on the picture the example says "Andrew My First Passport" but you can adjust that they way you like.
A passport cover like this will protect your child's passport will be in perfect condition and it also makes it easy to find the passport that belongs to your child.