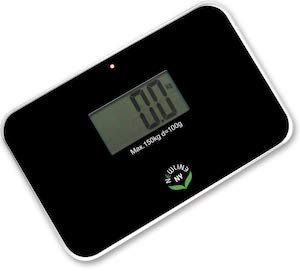 If you are on the trips all the time and you want to know if you are still at the perfect weight then you should check out this travel bathroom scale.
The bathroom scale is very similar from the one you use at home only this one is nice and compact so that you can put it in your suitcase and use it when ever you want.
This bathroom scale can do weight in KG, LB, and ST and it self th scale only weighs 20oz an measures 5.5. x 8.5 inches.
Besides being the perfect mini bathroom scale for when you travel this scale is also amazing for small bathrooms at home.