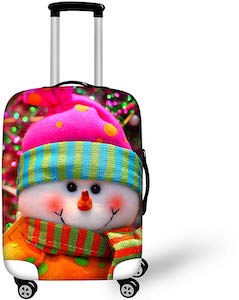 If you want a fun and festive suitcase then you can just get this Festive Snowman Suitcase Cover and put it on the suitcase you already own.
A staircase cover like this is made to protect your suitcase from damage and to make it more difficult for people to steal from you. You can get this suitcase cover in different sizes and all are really flexible to fit snug around your suitcase while keeping wheels and handles available for you.
On this suitcase cover you can see an adorable snowman and it is wearing a scarf and hat to stay warm this winter and behind the snowman you can see lights and I think they are Christmas lights.
This cover for your luggage is a great way to be festive this holiday season or winter and I think people will smile if they see you travel with this .