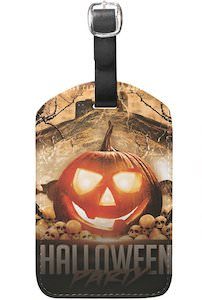 If you want a cool luggage tag for Halloween then look no further as this is the perfect luggage tag as it has a pumpkin on it and more.
The luggage tag shows a carved pumpkin and it seems to be light up and below the pumpkin it says "Halloween party" against a dark background.
So this luggage tag is perfect for when you are traveling to a Halloween party.
The luggage tag shows the same image on both the front and back only the back has a flap that keeps your ID card out of sight so that only people that really want to see your info can see it.