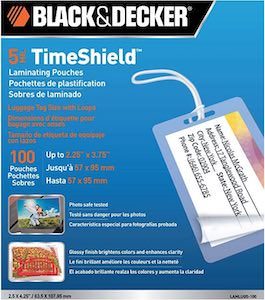 The people from Black & Decker wants you to have the perfect bag tag and that is why they sell these Laminating Luggage Tags.
These are luggage tag you have to laminate yourself with your own laminater.
You will get 100 (also available in a pack of 10) laminating pouches and straps.
Now you just need the thing you want inside you bag tag and that can be your information, photo, or maybe something fun for a groups trip.
When laminated the luggage tags will be pretty solid and strong just like you expect from a luggage tag and as you made them yourself they are amazing looking and great on any bag, suitcase, or backpack.