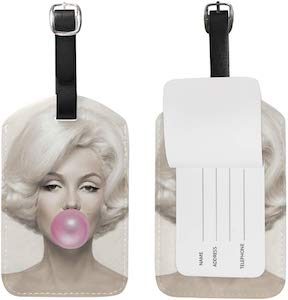 Now you can have this fun looking Marilyn Monroe Bubblegum Luggage Tag on your suitcase.
This luggage tag shows a nice photo of Marilyn Monroe in a Sephia tone and she is blowing a big pink bubble with her gum.
And there is an ID card in the luggage tag and it is hiding a bit behind the image of Marilyn that you can flap up to see your info.
Having this bag tag on your suitcase will make it a lot easier to spot your suitcase at the airport and I am sure that others will notice it too as it just looks so cool.