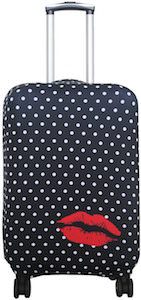 Suitcases often look boring and the same as everyone else's but you can change that with a suitcase cover.
This suitcase cover is black and is covered in white polka dots and to make it even more fun they added some red lips to the bottom.
You can get this stretchy suitcase cover in 4 different sizes so that it fits your suitcase perfectly.
The cover is made from a stretchy material so that it fits snug around you suitcase while keeping wheels and handles accessible. A suitcase cover also makes it more difficult for a person to quickly steal things from your luggage and it also makes it so much easier to spot at the luggage carousel at the airport.