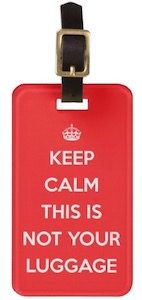 If you are looking for a bright luggage tag that is fun and can be made specially for you.
The luggage tag has a red front and back and on the front it shows a crown with the text "Keep Calm This Is Not Your Luggage" and that is fun and maybe make people rethink stealing your luggage.
On the back of the luggage tag you can choose to have the typical ID card slot so that you can write your own address cards or you can choose to have one that is personalized for you so that the back is printed with all your information on it and that looks really nice.