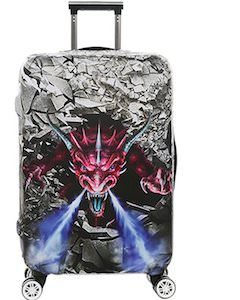 Suitcase often looks so boring and quickly get damaged from travel and that is why there now is this angry dragon suitcase cover.
The suitcase cover is available in many sizes so that it fits your suitcase perfectly no matter what size it is.
The suitcase cover is 91% polyester and 9% spandex making it strong and flexible so that it fits snug around the suitcase so that the dragon really comes out nicely.
The dragon suitcase cover keeps handles and wheels accessible and zips up on the bottom so that it protects the whole suitcase and makes it more difficult to quickly get into your suitcase and thieves will have that problem too.