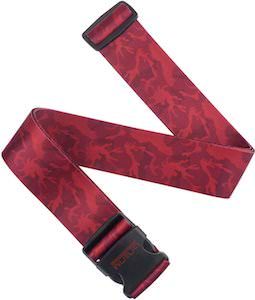 If you like a nice looking strap around your suitcase then come check out this Red Print Luggage Strap.
The luggage strap is dark red in color that is almost like burgundy red and on it in a lighter red a print that maybe makes it look like camouflage.
It is a classy looking luggage strap that is adjustable in size to make it fit tight around you suitcase. You can set the size any where between 20 and 32 inches wide with black buckles to keep it secure around your bag.
Having this luggage strap on your bag will make it a lot easier to spot it on a luggage belt at the airport but also keeps your suitcase closed a bit better.